Local and Nonlocal Geometry of PDEs and Integrability
From Geometry of Differential Equations
Conference dedicated to the 70th birthday of Joseph Krasil'shchik
8-12 October 2018, SISSA, Trieste, Italy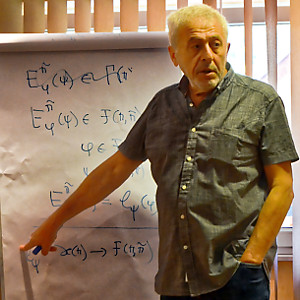 The conference Local and Nonlocal Geometry of PDEs and Integrability will focus on the geometry and algebra of differential equations, differential geometry, integrable systems, mathematical physics, and all that. This is a conference in honor of Joseph Krasil'shchik's birthday and his many contributions to all these fields.
Scientific Committee
Dmitri Alekseevsky, Ugo Bruzzo, Boris Dubrovin, Davide Guzzetti, Alexei Kushner, Valentin Lychagin, and Vladimir Rubtsov
Organizers
Ugo Bruzzo, Davide Guzzetti, Vladimir Rubtsov, Alexander Verbovetsky, and Raffaele Vitolo
For any questions, please email the organizers at trieste18@gdeq.org.
Registration
To register please email the organizers at trieste18@gdeq.org
Deadlines
The deadline for the registration is 1 July;
If you need financial support please let us know as soon as possible.
If you plan a talk, please submit its title and abstract not later than 31 August.
Participants (registered till today)
Dmitri Alekseevsky (Moscow)
Ugo Bruzzo (Trieste)
Alberto De Sole (Rome)
Boris Dubrovin (Trieste)
Giuseppe Gaeta (Milan)to be confirmed
Maxim Grigoriev (Moscow)
Davide Guzzetti (Trieste)
Pavel Holba (Opava)
Paul Kersten (Losser)
Igor Khavkine (Prague)
Joseph Krasil'shchik (Moscow)
Boris Kruglikov (Tromsø)
Jacob Kryczka (Angers)
Alexei Kushner (Moscow)
Valentin Lychagin (Tromsø)
Franco Magri (Milan)
Andrei Marshakov (Moscow)
Michal Marvan (Opava)
Oleg Morozov (Kraków)to be confirmed
Maxim Pavlov (Moscow)
Vladimir Rubtsov (Angers)
Alexey Samohin (Moscow)
Jan Slovak (Brno)
Jakub Vašíček (Opava)
Alexander Verbovetsky (Moscow)
Raffaele Vitolo (Lecce)
Proceedings
There will be no conference proceedings, but instead we plan to organize a special issue of a peer-review journal with contributions from the participants, with all submissions being refereed according to the regular procedure.
Conference Costs
The participation fee for the conference is EUR 100. It doesn't include meals (except coffee breaks and a conference dinner), travel, and lodging costs. It is possible to have a lunch at the SISSA canteen, very close to the conference room, for a relatively cheap price (EUR 5-7). There is no fee for accompanying persons (eventual social events should be paid).
A very limited financial support will be available to some participants upon request.
Location and Travel

Room 005 (ground floor) of the SISSA Main Building, Via Bonomea 265, Trieste
The arrival day is 7 October (Sunday). The departure day is 13 October (Saturday).
Travel information on the SISSA website:
From the Trieste center SISSA can be reached by the 38 bus from via Galatti in front of Piazza Oberdan (opposite the Birreria Forst), see the map.
Hotels
SISSA has special discounted rates with the hotels listed here.
Please ask for the special fare directly when booking the hotel.
Below are two selections from the full list, one of which contains hotels in the center at less than 10 minutes walk from the 38 bus stop. The second selection lists hotels in the old town at 15-20 minutes walk from the 38 bus stop.
You can see all selected hotels on this map.
If you have any questions about your accommodation in Trieste please email the organizers at trieste18@gdeq.org.
Sponsors
---
This page is constantly being updated.