Diffieties, Cohomological Physics, and Other Animals
Jump to navigation
Jump to search

Alexandre Vinogradov Memorial Conference
13-17 December 2021, Independent University of Moscow and Moscow State University, Russia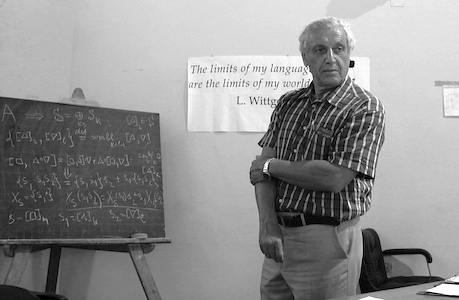 The conference Diffieties, Cohomological Physics, and Other Animals will focus on the topics related to the scientific heritage of A.M. Vinogradov, who passed away on 20 September 2019 at the age of 81, and is dedicated to his memory. These topics are:
geometry and algebra of differential equations
differential geometry
cohomological methods in physics
differential structures related to various brackets
etc.
---
The conference is organized by

 Independent University of Moscow

 Moscow Center for Continuous Mathematical Education

 Interdisciplinary Scientific Center J.-V. Poncelet (ISCP)

 Faculty of Mechanics and Mathematics, Moscow State University

 Steklov International Mathematical Center

 Center of Fundamental and Applied Mathematics
Format
The conference will be held in hybrid format (on-site and online).
The on-site program will take place at the Independent University of Moscow and the Moscow State University.
In addition to 45 and 20 min. talks we will organize a poster session if there will be enough interest.
We also intend to arrange an informal session of memories on one of the Conference evenings.
Program Committee
V. Buchstaber, Y. Kosmann-Schwarzbach, I. Krasil'shchik (Chairman), G. Marmo, V. Maslov, S. Nechaev, V. Rubtsov, J. Stasheff, A. Verbovetsky (Vice Chairman), G. Vilasi, L. Vitagliano, Th. Voronov
Organizers
V. Furin, I. Krasil'shchik (Vice Chairman), L. Kryukova, V. Podol'skii, A. Shafarevich, A. Sossinsky (Chairman), A. Verbovetsky, M. Vinogradov
For any questions, please email the organizers at amv-conf@gdeq.org.
Poster
Registration
To register please email the organizers at amv-conf@gdeq.org.
Please, indicate will you participate in person or online and your affiliation in your letter.
Please note that we ask everybody to register again even if you have done so before in 2020.
Deadlines
The deadline for the registration is 15 November, but we encourage early registration.
If you need financial support please let us know as soon as possible, but not later than 20 October.
If you need a letter of invitation to apply for an entry visa please send us your data as soon as possible.
If you plan a talk, please submit its title and abstract not later than 15 November.
Participants
Preliminary list (registered till today)
Sergey Agafonov (São José do Rio Preto)

Darboux integrability for diagonal systems of hydrodynamic type, abstract

Dmitri Alekseevsky (Moscow)

Special Vinberg cones and their application to supergravity, abstract

Hynek Baran (Opava)
Irina Bobrova (Moscow)
Alexei Bocharov (Redmond, WA, US), online
Diego Catalano Ferraioli (Salvador), online
Vladimir Chetverikov (Moscow)

Coverings and integrable pseudosymmetries of differential equations, abstract

Konstantin Druzhkov (Moscow)
Evgeny Ferapontov (Loughborough), online
Maxim Grigoriev (Moscow)
Dimitri Gurevich (Valenciennes)

q-Analogs of differential operators and their applications, abstract

Gerard Helminck (Amsterdam), online
Sergei Igonin (Yaroslavl), online
Igor Khavkine (Prague)
Hovhannes Khudaverdian (Moscow)
Yvette Kosmann-Schwarzbach (Paris), online
Iosif Krasil'shchik (Moscow)
Boris Kruglikov (Tromsø), online
Andrey Krutov (Moscow)
Sergei Lando (Moscow)
Valentin Lychagin (Moscow)
Giuseppe Marmo (Naples), online
Alexander Mikhailov (Leeds)
Marco Modugno (Florence), online
Oleg Morozov (Kraków)
Andrei Pogrebkov (Moscow)
Alexey Remizov (Moscow)

Smooth local normal forms of hyperbolic Roussarie vector fields, abstract

Vladimir Rubtsov (Angers), online
Alexey Samokhin (Moscow)
Georgy Sharygin (Moscow)
Ekaterina Shemyakova (Toledo, OH, US), online
Jan Slovák (Brno)
Alexei Sossinsky (Moscow)
Jim Stasheff (Lansdale, PA, US), online
Alexander Verbovetsky (Moscow)
Gabriele Vezzosi (Florence), online
Gaetano Vilasi (Salerno)
Michael Vinogradov (Moscow)
Luca Vitagliano (Salerno), online
Raffaele Vitolo (Lecce)
Petr Vojčák (Opava)
Theodore Voronov (Manchester), online
Conference Expenses
There is no participation fee. The venue, conference material and coffee breaks are free.
The participants are supposed to pay for their travel, lodging, and meals.
A very limited financial support will be available to some participants upon request.
Location and Travel
The conference hall (Room 401, 4th floor) of the IUM, Bolshoy Vlasyevskiy Pereulok 11, Moscow
The working days of the conference: 13-17 December.
The arrival day is 12 December (Sunday). The departure day is 18 December (Saturday).
Hotels
The participants are supposed to arrange their own hotel accommodation.
Visas
For the participants who need Russian entry visa we can arrange visa invitation letters.
Due to Covid-19 travel restrictions, the invitations can be issued only to citizens and permanent residents of the countries listed here.
Citizens of other countries are advised to get in touch with the Russian Consulate in order to check if a conference invitation can be exempted from the above restriction.
Please email the organizers at amv-conf@gdeq.org the following information:
   Visa information:
Surname / Family name (as in passport)
First name, middle names, patronymic names (as in passport)
Sex
Nationality
Date of birth
Place of birth (country, town)
Passport number
Date of issue
Date of expiry
Permanent place of residence (country, region, town)
Affiliation
Your position at item 11.
Detailed work address
Phone number of item 13.
The exact dates of your stay in Russia (if you have not decided on the exact dates yet, just specify the widest gap you are considering)
A list of Russian cities you intend to visit (5 at most, Moscow included)
The Russian consulate where you're going to apply for visa (it suffices to name the city)
+ copy of the passport (scanned version of the page with the photo)
!!! Attention!!! The passport should be valid for a minimum of 6 months after visa expiration date
Because it takes time to arrange an invitation letter we should have all information from you the earliest time possible.
The accompanying persons can't be included to the visa invitation letters, so they should get tourist visas.
---
This page is constantly being updated.