Diffieties, Cohomological Physics, and Other Animals
Alexandre Vinogradov Memorial Conference
8-12 June 2020, MCCME, Independent University of Moscow, Moscow, Russia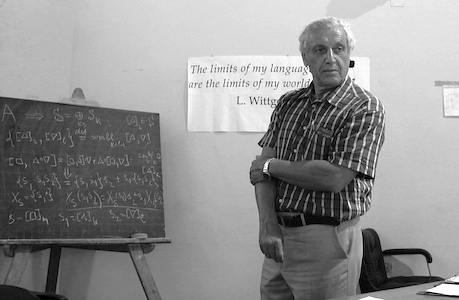 The conference Diffieties, Cohomological Physics, and Other Animals will focus on the topics related to the scientific heritage of A.M. Vinogradov, who passed away on 20 September 2019 at the age of 81, and is dedicated to his memory. These topics are:
geometry and algebra of differential equations
differential geometry
cohomological methods in physics
differential structures related to various brackets
etc.
Scientific Committee
V. Buchstaber, Y. Kosmann-Schwarzbach, I. Krasil'shchik (Chairman), G. Marmo, V. Maslov, S. Nechaev, V. Rubtsov, J. Stasheff, A. Verbovetsky (Vice Chairman), G. Vilasi, L. Vitagliano, Th. Voronov
Organizers
V. Furin, I. Krasil'shchik (Vice Chairman), L. Kryukova, A. Shafarevich, A. Sossinsky (Chairman), A. Verbovetsky, M. Vinogradov
For any questions, please email the organizers at amv-conf@gdeq.org.
Poster
Registration
To register please email the organizers at amv-conf@gdeq.org. Please, indicate your affiliation in your message.
Deadlines
The deadline for the registration is 31 March, but we encourage early registration.
If you need financial support please let us know as soon as possible.
If you plan a talk, please submit its title and abstract not later than 30 April.
Preliminary participant list (registered till today)
Victor Buchshtaber (Moscow)
Vladimir Chetverikov (Moscow)
Anna Dujunova (Moscow)
Eugeny Ferapontov (Loughborough)
Maxim Grigoriev (Moscow)
Sergei Igonin (Yaroslavl)
Igor Khavkine (Prague)
Nina Khor'kova (Moscow)
Hovhannes Khudaverdian (Manchester)
Yvette Kosmann-Schwarzbach (Paris)
Iosif Krasil'shchik (Moscow)
Boris Kruglikov (Tromsø)
Andrey Krutov (Zagreb)
Jacob Kryczka (Angers)
Olga Kunakovskaya (Voronezh)
Alexei Kushner (Moscow)
Sergei Lando (Moscow)
Aleksej Livchak (Riga)
Valentin Lychagin (Tromsø)
Giuseppe Marmo (Naples)
Victor Maslov (Moscow)
Oleg Morozov (Krakow)
Sergei Nechaev (Moscow)
Aleksandr Panov (Chelyabinsk)
Maxim Pavlov (Moscow)
Andrei Pogrebkov (Moscow)
Michael Roop (Moscow)
Vladimir Rubtsov (Angers)
Yuri Sachkov (Pereslavl-Zalessky)
Alexey Samokhin (Moscow)
Andrei Shafarevich (Moscow)
Georgij Sharygin (Moscow)
Ekaterina Shemyakova (Toledo, US)
Jan Slovák (Brno)
Vladimir Sokolov (Chernogolovka)
Alexei Sossinsky (Moscow)
Dmitry Talalaev (Moscow)
Sergei Tychkov (Moscow)
Alexander Verbovetsky (Moscow)
Gaetano Vilasi (Salerno)
Michael Vinogradov (Moscow)
Luca Vitagliano (Salerno)
Raffaele Vitolo (Lecce)
Petr Vojčák (Opava)
Theodore Voronov (Manchester)
Valery Yumaguzhin (Pereslavl-Zalessky)
Valeria Yumaguzhina (Pereslavl-Zalessky)
Vladislav Zhvik (Zhukovsky)
---
This page is constantly being updated.