Diffieties, Cohomological Physics, and Other Animals
Jump to navigation
Jump to search

Alexandre Vinogradov Memorial Conference
13-17 December 2021, Independent University of Moscow and Moscow State University, Russia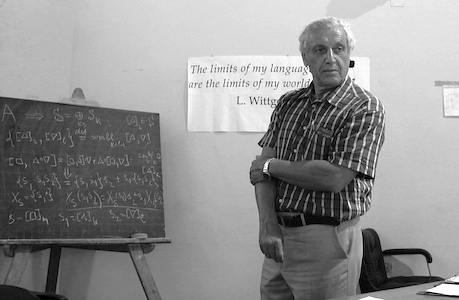 The conference Diffieties, Cohomological Physics, and Other Animals will focus on the topics related to the scientific heritage of A.M. Vinogradov, who passed away on 20 September 2019 at the age of 81, and is dedicated to his memory. These topics are:
geometry and algebra of differential equations
differential geometry
cohomological methods in physics
differential structures related to various brackets
etc.
---
The conference is organized by

 Independent University of Moscow

 Moscow Center for Continuous Mathematical Education

 Interdisciplinary Scientific Center J.-V. Poncelet (ISCP)

 Faculty of Mechanics and Mathematics, Moscow State University

 Steklov International Mathematical Center

 Center of Fundamental and Applied Mathematics
Format
The conference will be held in hybrid format (on-site and online).
The working days of the conference: 13-17 December.
For on-site participants, the arrival day is 12 December (Sunday) and the departure day is 18 December (Saturday).
There will be 45 and 20 min. talks.
On Monday evening we will invite everybody to an informal session of memories.
Program Committee
V. Buchstaber, Y. Kosmann-Schwarzbach, I. Krasil'shchik (Chairman), G. Marmo, V. Maslov, S. Nechaev, V. Rubtsov, J. Stasheff, A. Verbovetsky (Vice Chairman), G. Vilasi, L. Vitagliano, Th. Voronov
Organizers
V. Furin, I. Krasil'shchik (Vice Chairman), L. Kryukova, V. Podol'skii, A. Shafarevich, A. Sossinsky (Chairman), A. Verbovetsky, M. Vinogradov
For any questions, please email the organizers at amv-conf@gdeq.org.
Poster
Program
The program was last modified on 10 December 2021 at 19:30 MSK
Alexandre Vinogradov Memorial Session
Monday, 13 December, 18:30, IUM
This session will be an informal get-together, where any one will have the possibility to share their memories of contacts with Alexandre - not only as a mathematician, but also as a fascinating human being. Everyone is invited.
Participants
All abstracts in one pdf file
Sergey Agafonov (São José do Rio Preto)
Fatemeh Ahangari (Tehran), online
Alexander Aksenov (Moscow)
Dmitri Alekseevsky (Moscow)
Luca Amata (Messina), online
Atish Bagchi (Philadelphia), online
Hynek Baran (Opava)
Irina Bobrova (Moscow)
Alexei Bocharov (Redmond, WA, US), online
Diego Catalano Ferraioli (Salvador), online
Vladimir Chetverikov (Moscow)
Konstantin Druzhkov (Moscow)
Anna Duyunova (Moscow)
Evgeny Ferapontov (Loughborough), online
Matteo Gorgone (Messina), online
Maxim Grigoriev (Moscow)
Ivan Gudoshnikov (Prague), online
Dimitri Gurevich (Valenciennes)
Gerard Helminck (Amsterdam), online
Hilja Lisa Huru (Tromsø), online
Sergei Igonin (Yaroslavl), online
Cathrine Jensen (Oslo), online
Igor Khavkine (Prague)
Nina Khor'kova (Moscow)
Hovhannes Khudaverdian (Moscow)
Yvette Kosmann-Schwarzbach (Paris), online
Iosif Krasil'shchik (Moscow)
Alexander Krishchenko (Moscow)
Boris Kruglikov (Tromsø), online
Andrey Krutov (Moscow)
Jacob Kryczka (Angers), online
Olga Kunakovskaya (Voronezh), online
Alexei Kushner (Moscow), online
Sergei Lando (Moscow)
Aleksej Livchak (Riga), online
Valentin Lychagin (Moscow)
Giovanni Manno (Turin), online
Giuseppe Marmo (Naples), online
Ian Marshall (Moscow)
Luigi Martina (Lecce), online
Michal Marvan (Opava), online
Victor Maslov (Moscow), online
Alexander Mikhailov (Leeds), online
Dmitry Millionschikov (Moscow)
Marco Modugno (Florence), online
Oleg Morozov (Moscow)
Francesco Oliveri (Messina), online
Alexey Podobryaev (Pereslavl-Zalessky), online
Andrei Pogrebkov (Moscow), online
Anatolij Prykarpatsky (Kraków), online
Alexey Remizov (Moscow)
Vladimir Rubtsov (Angers), online
Yuri Sachkov (Pereslavl-Zalessky), online
Alexey Samokhin (Moscow)
Georgy Sharygin (Moscow)
Mikhail Sheftel (Istanbul), online
Ekaterina Shemyakova (Toledo, OH, US), online
Jan Slovák (Brno)
Vladimir Sokolov (Chernogolovka), online
Alexei Sossinsky (Moscow)
Jim Stasheff (Lansdale, PA, US), online
Giorgio Tondo (Trieste), online
Sergey Tychkov (Moscow)
Alexander Verbovetsky (Moscow)
Pierandrea Vergallo (Lecce), online
Gabriele Vezzosi (Florence), online
Gaetano Vilasi (Salerno), online
Michael Vinogradov (Moscow)
Luca Vitagliano (Salerno), online
Raffaele Vitolo (Lecce), online
Petr Vojčák (Opava)
Theodore Voronov (Manchester), online
Valery Yumaguzhin (Pereslavl-Zalessky), online
Proceedings
A refereed collection of papers based on the conference talks was published in the Contemporary Mathematics Series of the AMS:
Conference Expenses
There is no participation fee. The venue, conference material, coffee breaks, and a conference dinner are free.
The participants are supposed to pay for their travel, lodging, and meals.
A very limited financial support will be available to some participants upon request.
Locations
The on-site program will take place at the Independent University of Moscow (on 13, 16, and 17 December) and the Moscow State University (on 14 and 15 December).
Independent University of Moscow
The conference hall: Room 401 (upper floor)
Address: Bolshoy Vlasyevskiy Pereulok 11
GPS coordinates: 55.7463, 37.5898
OpenStreetMap: https://osm.org/go/0t2aykQj-?m=
This map shows how to reach the building from two closest metro stations "Smolenskaya" or "Kropotkinskaya".
Moscow State University
The conference hall: Room 12-25 (12th floor) of the University Main Building
Address: Leninskiye Gory 1
GPS coordinates: 55.7023, 37.5299
OpenStreetMap: https://osm.org/go/0t2PQEOf-?m=
The Main Building of the Moscow State University has 4 entrances. Please use the so-called "club entrance" located on Akademika Khokhlova Street. On this map the club entrance is indicated by the red point.
Please take your passport with you when you go to the MSU.
Conference Dinner
A conference dinner will be on Thursday, 16 December at 18:30 at the IUM.
It is free of charge for all participants.
Please let us know if you are interested in attending.
Hotels
The participants are supposed to arrange their own hotel accommodation.